The VBI Company Advantage
Learn To Trade Safely With Our Mobile Application
VBI Company's designation as an Independent Introducing Broker (IIB) is a significant advantage to our clients. As an IIB VBI Company is uniquely allowed to have clearing agreements with multiple FCM's (Futures Commission Merchants), such as Straits Financial and RJ O'Brien. This enables our clients to have access to a variety of trading platforms, products, and other services offered by different FCM's that best suit their needs. This is in contrast to Guaranteed Introducing Brokers (GIB) who are only able to offer clients the often times limited services of just one FCM.
QST Mobile Trading Application
QST Mobile is a revolutionary futures, equities, FX, and CFD trading application that combines comprehensive, fast and flexible order entry/order management with world-class charting and analytics, real-time quotes, and news. QST Mobile allows our clients to have access to their trades and accounts at a push of a button 24/7, which is essential given today's ever-changing markets. The app is provided free of charge to clients who are active traders. The phone app examples shown are for demonstration purposes only.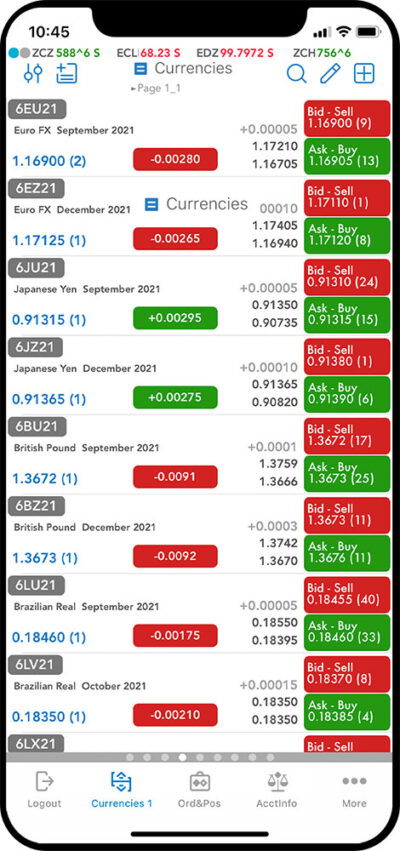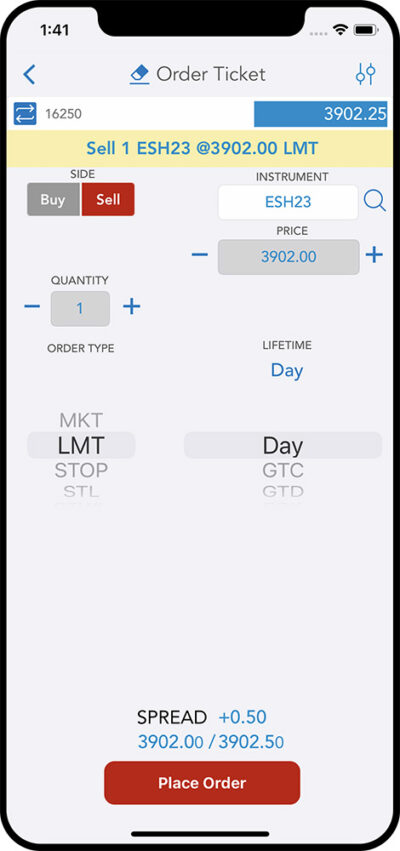 QST Mobile is available on iOS and Android platforms, with matching functionality and full native user interface, complying with the latest Google and Apple User Interface Guidelines.
Fresh updates are available on Google Play and App Store, bringing new features backed up by a 24/6 customer support service.
Real-time streaming quotes with customizable layout. Highly reliable and accurate data.
Internet-based mobility for anytime/anywhere access.
The best combination of sophistication, usability, performance and price.
One tap trading operations available from all of our main modules: Quotes Monitor, Price Ladder, Full Screen Charts, Options Chain, Orders & Positions.
A persistent Ticker View at the top of your screen with your favorite quotes, updated continuously throughout the trading session.
Two Factor Authentication and Biometrics provide both enhanced security and an easier login experience.
QST Mobile also offers a "Practice" mode in which customers can become familiar with the app prior to placing live trades. The "Practice" mode is virtually identical to live trading, however, there are no real dollar consequences. The feature also allows clients who are new to futures trading the opportunity to see in real-time the possible monetary risks and the speed at which various markets move. Please be aware that there are fees and commissions that apply to live trading that will not appear in the "Practice" mode.
We recommend that clients begin on the "Practice" setting as it is a great tool for learning both the mechanics of trading on the platform and the strategies used by VBI Company with no real monetary risk.
A 1256 contract refers to a type of financial derivative traded on regulated futures exchanges. These include many of the futures contracts and options on futures available to our clients. The term "1256" comes from the section of the U.S. Internal Revenue Code that governs their tax treatment.
Tax Advantages of 1256 Contracts:
The tax advantages of 1256 contracts lie in their unique tax treatment, which differs from other forms of investment income:
60/40 Tax Split: Gains and losses from trading 1256 contracts are subject to a special tax split known as the "60/40 rule." This means 60% of the gains or losses are treated as long-term capital gains/losses, while the remaining 40% are treated as short-term capital gains/losses, regardless of the actual holding period. Long-term capital gains are typically taxed at a lower rate than ordinary income tax rates, making 1256 contracts a more tax-efficient option for some traders. For example: when looking at the maximum tax bracket for 2023, the blended 60/40 split represents a 26.8% tax rate, which is 10.2% lower than the highest ordinary rate of 37% that would typically apply to short-term gains on equity investments.
Loss Carryback/Rollover: Unlike other investments, 1256 contract losses can be carried back up to three years to offset previous 1256 contract gains and obtain potential tax refunds. Alternatively, traders can still carry forward losses to offset future gains.
It's important to note that tax laws are subject to change, and individual circumstances can affect the tax advantages of 1256 contracts. As such, it is advisable to consult with a tax professional for personalized advice based on specific financial situations.
VBI Company Provides On-Going Support
Prior to every trading session our clients have the option to receive a copy of our "Daily Trader" that can be used to analyze market trends and potential areas of support/resistance in a number of markets. In addition, VBI also offers broker assisted trading and general market information to our clients over the phone.